Waist training is the process of using body shaping tools and garments to train the stomach to be in a specific shape. It is often done as an alternative to surgeries which tend to be very costly and involves a painful healing process.
Getting started is probably one of the most difficult things to do just like with any new hobby or habit you want to initiate. Though intimidating, once you get started, it'll be a breeze and you'll love the entire process. For you to be more comfortable with waist training, it's necessary for you to know the basics and to be informed of the do's and don'ts hence check out this easy-to-follow guide:
What Do You Need in Waist Training?
When it comes to waist training, all you need is a reliable waist trainer. However, finding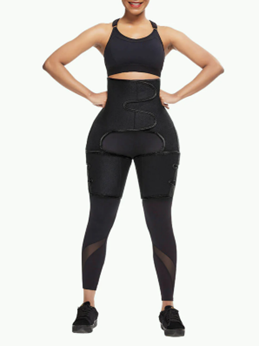 the best garment trainer is the tricky part. When in doubt, use a trainer that will support your waist and lower body.
If you plan on including exercises and proper diet, which is recommended, getting a gym membership, exercise equipment, going to a health and fitness coach for consultation, and prepping meals will all contribute to your waist training journey.
Before you start your waist training journey, start with a determined mindset that knows how to conquer every hurdle, because your biggest competitor is yourself. What you can achieve will greatly benefit your confidence and your mental well-being.
Sculptshe 3-in-1 Waist Thigh Eraser Booty Sculptor
Which Waist Trainer Should You Choose?
Gym-Friendly Firm Control Waist Trainer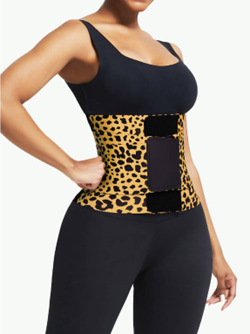 Unlike other waist trainers, this printed waist trainer gives a sexy look, especially when you wear it on top of your tank top of shirt.
This waist trainer is beginner-friendly, and will support your back as you do squats, and remind you to inhale and exhale.
It will also help you to have an improved posture with its flexible and adjustable waist band. It`s most suitable for sports and rigorous activities because not only is it stylish, but also functional for many occasions.
Sculptshe Adjustable Firm Control Waist Trainer
Tummy Wrap
The waist trainer wrap is a must-have for everyone getting started in their waist training. It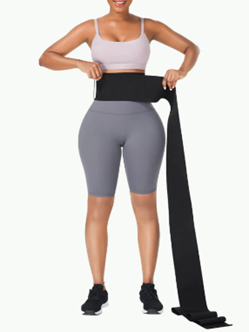 molds to your upper body well, allowing you to adjust the compression level.
What's also good about this is that you can wear it underneath waist trainers and body shapers if you want a higher level of compression.
This will work well for waist slimming with any exercises you want to do.
If you`re a beginner, this is a good product to start because you can customize the compression and fit to your preference. It`s also easy to use with any clothing due to its soft fabric and seamless design.
Sculptshe Tummy Wrap Waist Trainer
How to Use Waist Trainers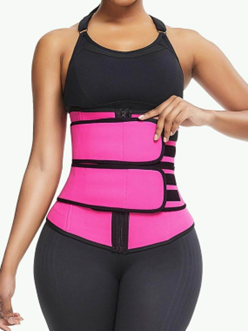 There are different ways on how you can use waist trainers depending on the occasion and goal. Check out how you can maximize your body trainers:
For basic waist trainers, all you need to do is ensure that the waist trainer fits you properly. Ensure that it`s snug and fit without being uncomfortable. You should still be able to breathe properly whether you`re standing up or sitting down. Then, close using the hook-and-eyes or zipper.
If you have belts, secure it around the smallest particle of your waist through the velcro. If you want a slimmer waist, you can adjust the compression by bringing the belts closer for a tighter fit.
Sculptshe Latex Double Belts Sport Corset Waist Trainer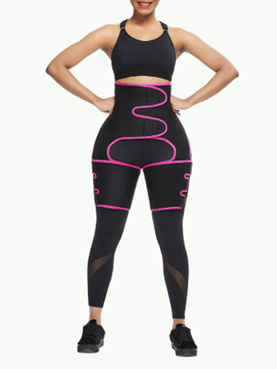 If you bought a waist and thigh trainer, one with thigh slimmers, butt lifters, and arm trimmers, you can simply fasten them to place. If you`re unsure if it`s placed properly, you should be able to insert your index finger in the shapewear but not too loose where you can move it around. You should be able to squat and do other exercises without a "bubble" of space between the waist trainer and your skin.
You can also add compression boards or a tummy wrap under your waist for double compression.
Another way to maximize your waist trainers is to wear a pair of shaping leggings or shorts to complement your waist slimming garment.
Sculptshe 3-in-1 Waist Thigh Eraser Booty Sculptor
Where Can You Use Waist Trainers?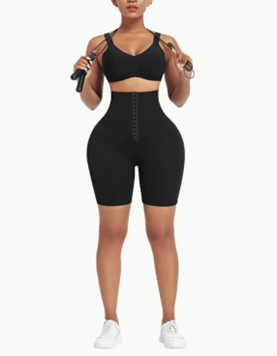 Use as a Corset on Top of Your Normal Clothing
It has become a fad to wear corsets and waist trainers on tops of your regular clothes, and even sometimes on top of your polo shirt for work. Not only do you look stylish, your waist trainer is also working to keep your tummy flat and sexy.
Wear to the Gym for Upper Body Support
It`s essential that in every exercise you do, you have the proper posture, or you might accidentally injure your body. We definitely don`t want this that`s why it`s important to wear a waist trainer that will keep your back upright and support your upper body to be in the right posture.
Sculptshe High Waisted Tummy Control Sauna Pants
Train Your Body While Cooking, Vacuuming and Cleaning the House
Even while at home, you can make your waist trainer work for a fitter body by wearing it around the house whether you`re dusting the shelves, or cooking for lunch.
Wear around Campus, and Be Confident in Your Waist Training Progress
Just like at home, you can wear your waist trainer around campus. Not only are you studying for better grades and for a better future, but you`re also waist training for a physically fit body.
Support Your Tummy Postpartum or Post surgery in the Hospital
Giving birth or having surgery can be painful, and this is why some doctors require patients to be in some kind of support garment like shapewear or waist trainer to give muscle support while the body is healing.
How to Get Your Dream Body?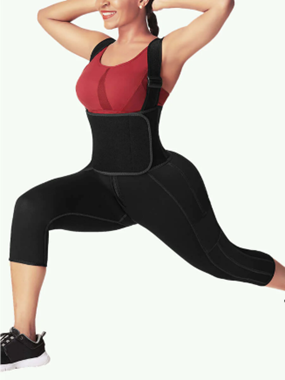 Getting your dream body doesn't happen overnight. Patience, discipline and determination are all significant for you to achieve for fitness goals.
It's not always easy but will the help of a plus size waist trainer that will instantly cinch your waist while wearing it, will help you envision and fully see the body you want to have.
Starting off with the right mindset will take you to the finish line. Secondly, what you eat is what you are. You don't have to cut back on many of your favorite foods, but rather practice eating in moderation and trying out calorie deficit.
Sculptshe Full Body Workout Sauna Suit
Following a personalized workout routine, maximizing the appropriate waist training garment, and following a strict diet is a sure way for you to be closer in achieving your ideal body.