Indian marriages are considered as the most eternal and long lasting, among all the marriages in the world. Cherished with vows taken, with five elemental forces and loved ones as witness, it's a ceremony that marks the new beginning for a bride. It's during this time when nostalgic bride leaves all her loved ones behind and takes a step towards her new life. Being an occasion of such an importance, everyone tries to select best gift for bride. And when question of best arises it ought to be diamond jewellery, no marriage is complete without a diamond.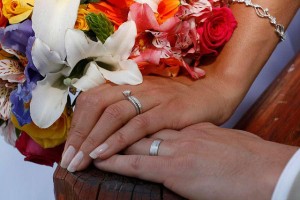 Diamond is not just a precious stone; it's the best gift that you can ever give to a bride. Many civilizations have considered diamonds as magical stones. Each characteristic of diamond symbolizes has its own meaning in relation with marriage. Like its clarity and hardness, it symbolizes the unbreakable and clear relationship between bride and groom. The lustrous shine of diamond symbolizes the strong ray of happiness that illuminates future of newly wedded couple. Besides the diamond can never be cut or broken, just like marriage bond that binds two lives together with love forever. The diamond is considered to be a symbol of love, passion, power, strength and long lasting beauty.
According to a belief held by some, gifting a diamond to bride in any form, diamond necklace or diamond jewellery helps in spiritual well-being of the bride. During marriage time it is natural for a bride to be nervous and there are chances of getting negative vibes from evil eyes of some; thus diamonds when wore by bride in any form of jewellery helps to open spirituality channel for bride by calming her senses and detoxifying negative vibes.
Besides the diamond are those gems that have survived forces of nature and have sustained themselves through ages. Thus they symbolize the strong will of women which is unconquerable. Wearing diamond necklace makes her look elegant and classy in her bridal wear.
With the term coined for diamonds as "Diamonds forever" during an advertising campaign the demand for diamond jewellery as increased significantly. People from elite classes prefer to gift diamond necklace over gold jewellery as diamond has achieved a state whereby the element of prestige is attached to it. Thus gifting a bride with diamond jewellery adds to your status showing your strong position in society.
Now is the era, where fashion changes almost every week and so does the jewellery. To make diamond available to bride in an elegant and classy form, you now have the option of solitaire ring instead of diamond necklace. These solitaire rings are delicately designed to enhance the beauty of bride. Solitaire is basically a precious diamond gem fitted into set of jewellery. It adds magical touch to entire bridal wear. Also known as single stone diamond ring, this ring is greatly in demand during this wedding season.
Gone are the days where bride would prefer to wear gaudy makeup and jewellery. Now are the days where they prefer designer saris with simple diamond jewellery and a solitaire ring to add that magical touch to their attire. Gift your bride a diamond to make a grand beginning of your new life!