The exotic world of fabrics has introduced a range of garments out of which designer tunics and kurtis are most in demand. Google has organized and introduced gosf offers which is also termed as 'great online shopping festival' of 2014 that includes a range of online portals selling exclusive brands. From December 10th-12th, GOSF will be held online showcasing a range of designer clothes from portals like Snapdeal, Mirraw, Myntra, Jabong and many more. If you've tried online or mobile shopping this is the best chance you have to try out shopping from a virtual platform.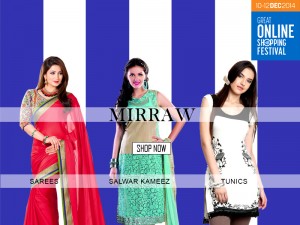 GOSF Deals on Clothing
The amazing part about shopping is that you get to release a lot of stress and enjoy memorable moments with friends or family. To increase your shopping extravaganza, Google organized the great online shopping festival which allows users to participate in online shopping. Considering the amount of users purchasing products like electronics, home décor, fashion wear etc from the internet, it isn't a surprise that an additional boost in your shopping carts in the form of massive discounts will only increase sales.
GOSF is an ideal marketing agenda to ensure that merchants get to introduce their goods to a range of eager shoppers. If you're looking for clothes, plenty of stores are presenting a whole new collection of garments. This winter experiment with tunics and kurtas that have become a fashion craze for women. Choosing such simple garments at affordable rates allows you to mix and match your clothes in the best way possible. You can always try a pair of black pants with a simple cotton white tunic or strap on a pair of boots with your denim shorts and a lovely short length kurti.
Tons of gosf deals are available on clothing stores where top brands are selling their garments at discounted rates. The natural beauty of tunics has attracted many customers only because this simplistic design can be complimented with different lowers. Whether you're opting for crossover tunics or plain tunics, the world of fashion has embraced talented designers who've mixed indo-western styles together. You'll find that tunics are one of the ideal options that make way for professional and casual wear.
Tunics offer two pocket designs or patch pockets that add versatility into the attire as well as side vents which makes it a flexible choice. Designer tunics found on the web are found in a range of colors, sleeve styles and neck lines. With adjustable drawstring to ensure the perfect fit, tunics are definitely meant for wearing on most occasions. You can find cotton based or silk fabricated tunics that add functionality and versatility to your wardrobe. Kurtis online are also becoming a craze with youngsters because they're sophisticated and stylish. Being a part of the attire 'salwar kameez' kurtis are ideally found in different sizes and can be paired with trousers, shorts, churidar pajama and even jeans.
Overview
Gosf offers this season ensure that you can enjoy a memorable shopping experience. All the gosf discounts you find on the web with respect to Indian wear like designer tunics or kurtis online or even bridal sarees add to the pleasure of shopping!