Flowers fill colours in all nature, and without them, the world would be a dull place to live in. Humans and flowers have a curious love affair. They find it beautiful and attractive. In fact, Flowers are the best way to convey the feelings of your heart. Some people love gardening as they find it peaceful. Through gardening, you can feel the flower power in a unique way. Climate plays a massive role in gardening, as different flowers can be grown in different climates. But if you don't have time or place for gardening you can always order flowers online in Delhi through winni.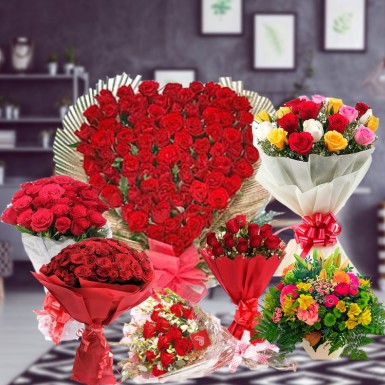 But for the people who love flowers and like to be around them, here's a guide to which flowers blossom in summers.
The bug repellent:  Marigold
To add fragrance and colour to any garden, these bright flowers are a perfect choice. A common yet most loved summer flower that can be used for various purposes, including religious, and medicinal. Their color ranges from light yellow to golden brown. Other than proving with pigments used in food coloring, the flower is a natural mosquito repellent.
Signature flower of summers: Sunflower
Sunflowers are the most appropriately named flowers as they tend to follow the sun everywhere. This flower can survive through extreme temperature as the summers in India can be unforgiving. These beautiful bright yellow flowers give your garden a radiant appeal. Their oil is extracted and sold commercially. One thing to keep in mind is not overwater the plant as it may weaken its root from the soil.
An ornamental vine:  Bougainvillea
Also referred to as 'paper flower,' this plant has very thin paper-like flowers. Its drought tolerance makes it an excellent hot season plant. The woody climbers which come in bright colors like pink, magenta, purple, red, yellow, white, or orange, scramble over the fence or other plants and can be commonly seen on roadside trails and Indian houses.
Hibiscus for hot summers
Hibiscus is a gorgeous and delicate flower. Growing up to become a large-sized flower, hibiscus needs ample space and proper sunlight to grow, so plant them where they can have preferable resources. You don't even need to preserve Hibiscus seeds as it keeps on blooms and comes stronger year after year.
The Young Little Petunias
The most popular flowers amongst gardeners are Petunias. They are fast growing and blossom so well and easy to maintain. Available in a beautiful range of colours like pink, purple, red, white, and yellow to fill your summer garden with joy and butterflies. Petunias help in maintaining the condition of soil but also a perfect choice for container gardening.
The Charming Pansy
Pansies are colourful flowers often with faces. Pansies are great for the garden border or container gardening. Not to go by their appearance these fragrant and edible flowers have several health benefits and can be used as food decorative purposes. Pansies are recommended for gardening beginners too.
There is a list of many other summer plants available that can be selected as per your requirements, but we've sorted some of the affordable and easy maintenance flower plants for you. Grow some flowers to charm your gardens this summer! And you can also in purchase and send flowers to Delhi through winni.in